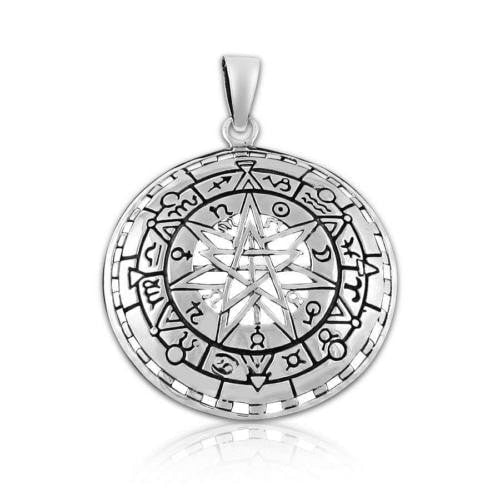 925 Sterling Silver Zodiac Wheel Pendant
Regular price
Sale price
$33.95
Unit price
per
---
Quantity
Made from high quality Sterling Silver (925).

Total weight: 7gr.

Size is approx. 1-3/16" (30mm) in diameter.

Zodiac Wheel/Pentagram theme.

Hallmarked 925.

Delivered in a free gift box.

Price does not include chain. However, we carry in our stock Sterling Silver chains at your request for an additional small charge if you wish to complement the pendant.
The Zodiac Wheel, also known as the Astrological Wheel, is a circular diagram that divides the celestial sphere into twelve segments, each representing one of the twelve zodiac signs. This ancient and symbolic wheel has been a fundamental tool in astrology, providing insights into personality traits, relationships, and the influence of celestial bodies on individual lives. From birth charts to astrological transits, this ancient wheel continues to be a valuable tool for those seeking insights into the mysteries of the cosmos and the intricate tapestry of human existence.