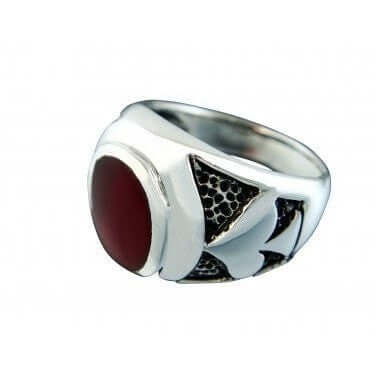 925 Sterling Silver Spade Poker Ring with Carnelian
Regular price
Sale price
$35.95
Unit price
per
---
Quantity
Made from high quality Sterling Silver (925).

Total weight: 12 gr.

Oval-shaped Carnelian stone 1/2" (12mm) by 3/8" (9mm).

The Spade on either side of the Carnelian stone is engraved on oxidized Sterling Silver to enhance the design.

Ring's front height of 11/16" (17mm) tapers off to 3/16" (5mm) at the back.

Delivered in a free gift box.
A Spade ring with Carnelian is a unique and bold piece of jewelry that seamlessly merges the iconic spade symbol with the vibrant energies of Carnelian. The spade, a classic symbol from playing cards, is reimagined in jewelry, adding a touch of bold elegance to the design. The combination of the spade symbol and Carnelian, creates an energetic expression, symbolizing not just luck and chance but also the vibrancy and vitality inherent in life's adventures.