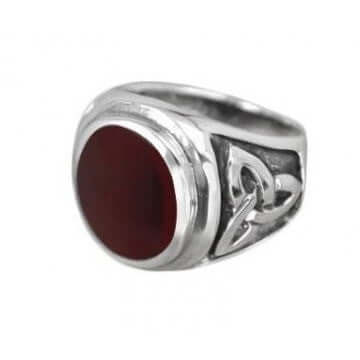 Sterling Silver Celtic Triquetra Ring with Oval Carnelian
Regular price
Sale price
$37.95
Unit price
per
---
Quantity
Made from high quality Sterling Silver (925).

Total weight: 13gr.

Oval shaped Carnelian stone 9/16" (14mm) by 1/2" (12mm).

Ring's front height of 3/4" (18mm) tapers off to 3/16" (5.5mm) at the back.

The Celtic Triquetra symbol on either side of the ring is engraved on oxidized Sterling Silver.

Delivered in a free gift box.

 
A Triquetra ring with Carnelian is a compelling and symbolic piece of jewelry that merges the profound meanings of the Celtic Triquetra symbol with the vibrant energies of Carnelian. The Triquetra, often known as the Trinity Knot, is a timeless emblem representing unity and the interconnectedness of various aspects of life. Paired with the fiery hues of Carnelian, this ring becomes a powerful talisman that combines aesthetic beauty with spiritual significance. Carnelian is believed to stimulate creativity, boost energy levels, and ignite passion, making it a fitting companion to the Triquetra's symbolism.