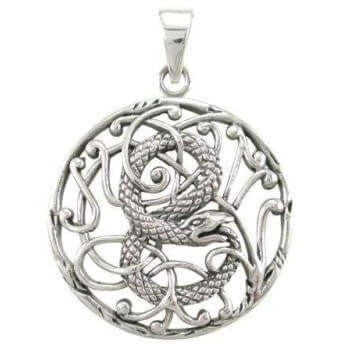 925 Sterling Silver Ouroboros Snake Pendant
Regular price
Sale price
$40.95
Unit price
per
---
Quantity
Made from high quality Sterling Silver (925).

Size is approx. 1-1/8" (28mm) in diameter.

Ouroboros Snake design.

Hallmarked 925.

Delivered in a free gift box.

Price does not include chain. However, we carry in our stock Sterling Silver chains at your request for an additional small charge if you wish to complement the pendant.
The Ouroboros is an ancient and mystical symbol that has captured the imaginations of people across various cultures and time periods. It is often depicted as a serpent or dragon eating its own tail, forming a continuous, circular shape. This enigmatic symbol carries profound meanings and has been embraced in philosophy, mythology, alchemy, and spirituality.
At its core, the Ouroboros represents the cyclical nature of existence. It symbolizes the eternal cycle of birth, life, death, and rebirth. The serpent devouring its tail suggests an unending cycle, without a distinct beginning or end, much like the continuous flow of time.