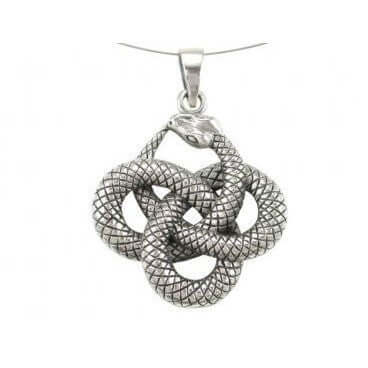 925 Sterling Silver Ouroboros Serpent Pendant
Regular price
Sale price
$29.95
Unit price
per
---
Quantity
Made from high quality Sterling Silver (925).

Size is approx. 1-3/16" (30mm) by 1-3/16" (30mm).

Ouroboros Snake theme.

Hallmarked 925.

We carry in our stock Sterling Silver chains at your request for an additional small charge if you wish to complement the pendant.
The Ouroboros pendant is a captivating and ancient symbol that holds deep significance across various cultures and philosophies. Representing the cyclicality of life, renewal, and eternity, the Ouroboros is often depicted as a serpent or dragon eating its own tail, forming a continuous loop.  The Ouroboros also embodies the concept of unity and wholeness. The integration of opposites, such as life and death, signifies the interconnectedness of all aspects of existence.