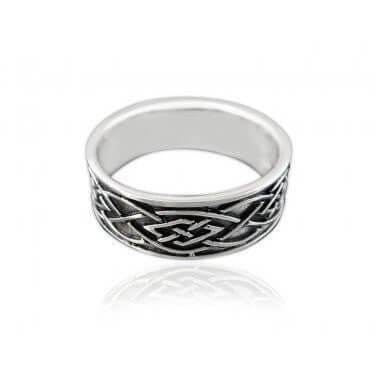 925 Sterling Silver Celtic Infinity Knots Band Ring
Regular price
Sale price
$22.95
Unit price
per
---
Quantity
Made from high quality Sterling Silver (925).

Total weight: 7gr.

Band width: 5/16" (8mm).

Engraved Celtic Knot around the ring.

Oxidized to enhance the design.

Hallmarked 925.

Delivered in a free velvet pouch.
The Celtic Infinity Knot, also known as the Celtic Love Knot or the Eternity Knot, is a timeless and intricate symbol originating from Celtic art and design. Renowned for its endless and interconnected pattern, the knot holds deep symbolism in Celtic culture, reflecting themes of eternity, love, and the cyclical nature of life. The Celtic Infinity Knot is characterized by an unbroken, looping pattern that intertwines and overlaps without a clear beginning or end. This design represents the concept of eternity and the interconnectedness of all things.