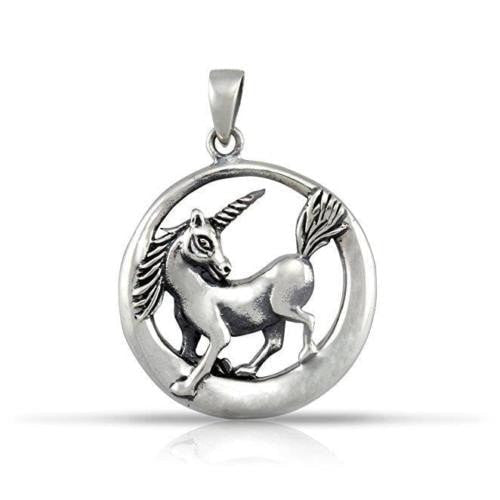 925 Sterling Silver Unicorn Mythical Pendant
Regular price
Sale price
$32.95
Unit price
per
---
Quantity
Made from high quality Sterling Silver (925).

Total weight: 7gr. Size is approx. 1-3/16" (30mm) in diameter.

Unicorn theme.

Hallmarked 925. Delivered in a free gift box.

Price does not include chain. However, we carry in our stock Sterling Silver chains at your request for an additional small charge if you wish to complement the pendant.
The unicorn, a mythical creature that has captured human imagination for centuries, is celebrated as a symbol of enchantment, purity, and untamed beauty.  With its single spiraled horn, the unicorn is a creature known for its singularity, often depicted as the only one of its kind. It serves as a symbol of embracing one's individuality and celebrating the unique qualities that set each person apart. When embodied in a pendant, the unicorn becomes not just a piece of jewelry but a statement of grace and individuality, inviting wearers to embrace the magic within and express their unique spirit.