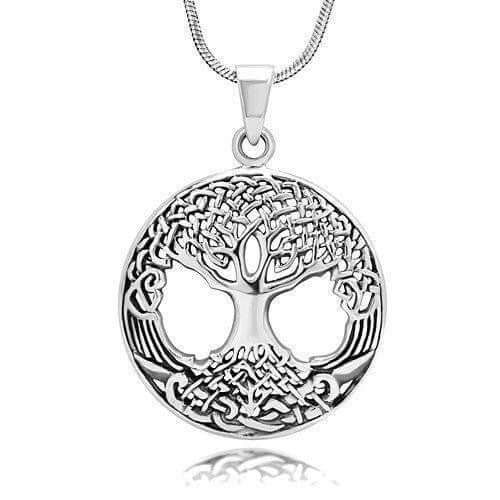 925 Sterling Silver Tree of Life Round Pendant
Regular price
Sale price
$25.95
Unit price
per
---
Quantity
Made from high quality Sterling Silver (925).

Total weight: 4.5gr.

Size is approx. 1-1/16" (27mm) in diameter.

Tree of Life design.

Pendant is slightly concave and has been oxidized to show detail.

Hallmarked 925.

Delivered in a free gift box.

Price does not include chain. However, we carry in our stock Sterling Silver chains at your request for an additional small charge if you wish to complement the pendant.
The Tree of Life symbolizes growth, renewal, and the cyclical nature of life. Through the changing seasons, the tree sheds its leaves, undergoes periods of dormancy, and then experiences vibrant renewal as new foliage emerges. This perpetual cycle mirrors the stages of life, death, and rebirth. In many spiritual and philosophical traditions, the Tree of Life is a symbol of cosmic order and divine harmony. Its branches reach toward the heavens, symbolizing spiritual growth, enlightenment, and the quest for higher knowledge.