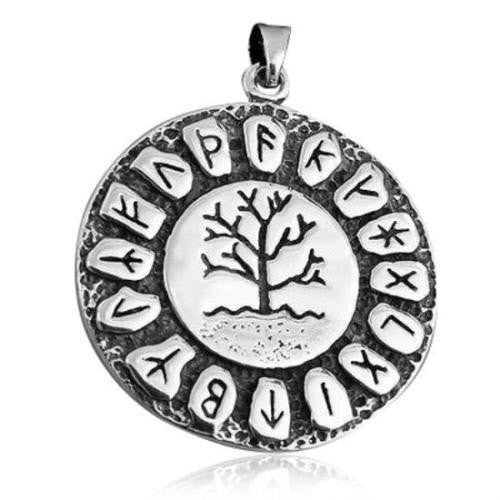 Sterling Silver Tree of Life and Norse Runes Pendant
Regular price
Sale price
$32.95
Unit price
per
---
Quantity
Made from high quality Sterling Silver (925).

Size is approx. 1-1/8" (28mm) in diameter.

Tree of Life / Runes design.

Hallmarked 925.

Delivered in a free gift box.

Price does not include chain. However, we carry in our stock Sterling Silver chains at your request for an additional small charge if you wish to complement the pendant.
The Tree of Life is often associated with themes of interconnectedness, growth, and the cyclical nature of life. When combined with runes, the Tree of Life takes on additional layers of meaning, blending the wisdom of the runic tradition with the universal symbolism of the tree. The Tree of Life, a cross-cultural symbol, is often depicted as a sacred tree that represents the connection between all forms of life. Integrating runes into the Tree of Life brings runic wisdom and energy into the symbol. Each runic character holds unique meanings, representing concepts like strength (Uruz), protection (Algiz), transformation (Kenaz), and balance (Gebo).