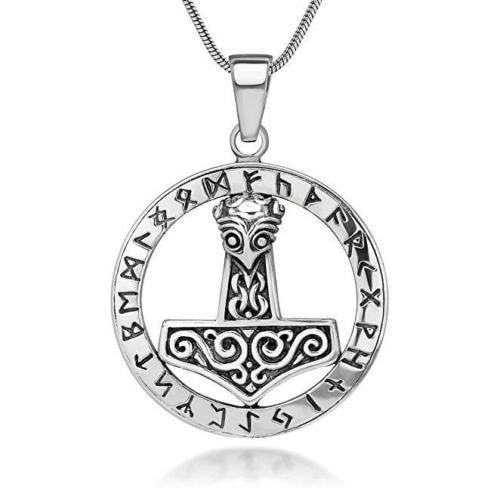 Sterling Silver Thor Hammer and Runes Pendant
Regular price
Sale price
$29.95
Unit price
per
---
Quantity
Made from high quality Sterling Silver (925).

Size is approx. 1-1/16" (27mm) in diameter.

Thor Hammer / Norse Runes (Futhark) design.

Hallmarked 925.

Delivered in a free gift box.
Combining Thor's mighty hammer, Mjolnir, with the ancient Norse runes creates a symbolic union that intertwines divine strength, protection, and the mystic wisdom encapsulated in runic inscriptions. This pendant weaves together the tangible power of Thor with the esoteric significance of the runic alphabet. Mjolnir with runes becomes a representation of the dual nature of strength and wisdom. It suggests that true power lies not only in physical might but also in the ability to harness the mystic forces represented by the runes.