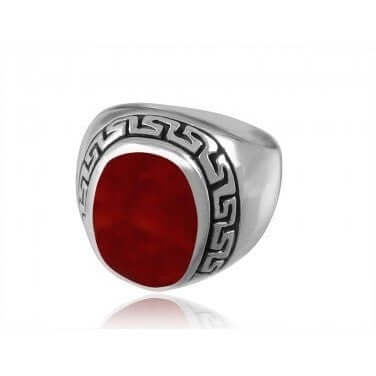 925 Sterling Silver Mens Greek Key Ring with Carnelian
Regular price
Sale price
$38.95
Unit price
per
---
Quantity
Made from high quality Sterling Silver (925).

Approximate weight: 14gr.

Oval shaped Carnelian stone 11/16" (17mm) by 1/2" (13mm).

Ring's front height of 7/8" (22mm) tapers off to 3/16" (5mm) at the back.

The traditional Greek Key is engraved on the Sterling Silver.

Delivered in a free gift box.
A Greek Key ring adorned with Carnelian is a captivating blend of classical design and vibrant energy. The Greek Key pattern, also known as the meander or key pattern, is a motif with a rich history in ancient Greek art and architecture. It symbolizes infinity, unity, and the eternal flow of life. Paired with the fiery hues of Carnelian, a gemstone associated with vitality and motivation, this ring becomes a harmonious fusion of timeless elegance and energetic vibrancy.