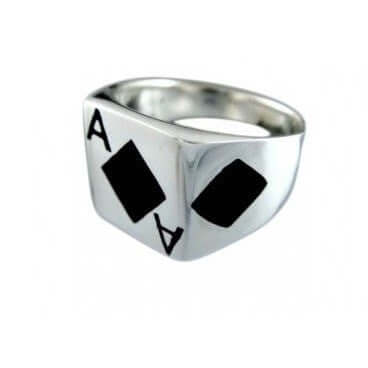 925 Sterling Silver Ace of Diamonds Casino Ring
Regular price
Sale price
$39.95
Unit price
per
---
Quantity
Made from high quality Sterling Silver (925).

Total weight: 10gr.

Front is squared (15mm) with black enamel ace of diamonds motif.

Side is tapered with black enamel diamonds motif.

Ring's front height of 15mm tapers off to 6mm at the back.

Delivered in a free gift box.
The Ace of Diamonds, often referred to as the "Ace of Money" or simply the "Ace of Coins," is a card that holds a unique place in the standard deck of playing cards. This card carries with it a variety of symbolism and meanings that extend beyond the world of card games.
In many card games, the Ace of Diamonds is considered the highest-ranking card in the diamond suit, making it a valuable asset for players. Its presence in a hand often signifies the potential for wealth and success in games such as Poker and Rummy.
The Ace of Diamonds is frequently associated with themes of prosperity, wealth, and material abundance. In fortune-telling and tarot card readings, it symbolizes financial opportunities, growth, and the potential for financial gain. Playing cards, including the Ace of Diamonds, have a long and diverse history dating back to the 14th century. The design of the Ace of Diamonds often features a prominent diamond symbol at its center, surrounded by decorative elements.
The Ace of Diamonds has made appearances in literature, movies, and art, often as a symbol of wealth, good fortune, and financial success. It represents the potential for life-changing financial opportunities.