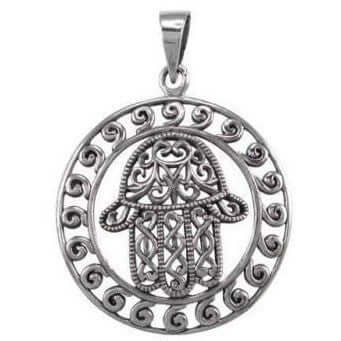 925 Sterling Silver Hamsa Hand of God Pendant
Regular price
Sale price
$27.95
Unit price
per
---
Quantity
Made from high quality Sterling Silver (925).

Size is approx. 1-3/16" (29mm) in diameter.

Hamsa Hand design.

Delivered in a free gift box.

Stamped 925.

Price does not include chain. However, we carry in our stock Sterling Silver chains at your request for an additional small charge if you wish to complement the pendant.
The Hamsa Hand, also known as the Hand of Fatima or Hand of Miriam, is a revered symbol in various cultures and religions, most notably in Islam and Judaism. Recognized for its distinctive design depicting an open hand with an eye in the center, the Hamsa carries deep spiritual significance and is often used as a protective amulet. The Hamsa Hand is characterized by its unique design—a hand with three extended fingers in the middle and a thumb and pinkie on either side.