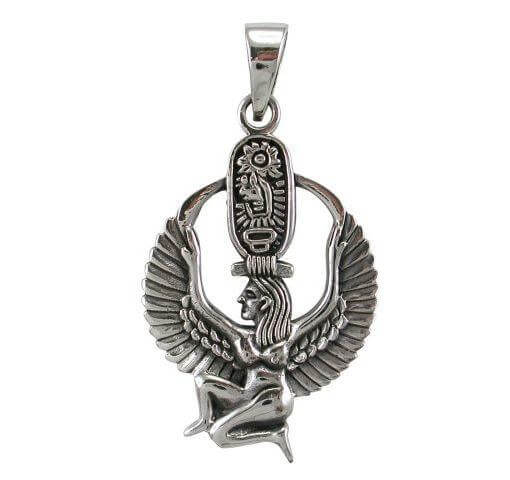 Sterling Silver Goddess Isis Pendant with Cartouche
Regular price
Sale price
$33.95
Unit price
per
---
Quantity
Made from high quality Sterling Silver (925).

Total weight: 6gr.

Size is approx. 1-1/4" (30mm) tall by 7/8" (22mm) at widest point.

Hallmarked 925. Delivered in a free gift box.

We carry in our stock Sterling Silver chains at your request for an additional small charge if you wish to complement the pendant.
Isis, a central figure in Egyptian mythology, is known as the goddess of fertility, motherhood, and magic. Often regarded as a wise and nurturing deity, she played a crucial role in the protection and well-being of her worshippers. Wearing the Egyptian Goddess Isis Pendant is a symbol of connection to these ancient beliefs and a celebration of the enduring qualities that Isis represents. Embrace the enchanting world of ancient Egypt with the Egyptian Goddess Isis Pendant – a piece that transcends time, connecting the wearer to the mysticism and beauty of one of the most revered goddesses in history.