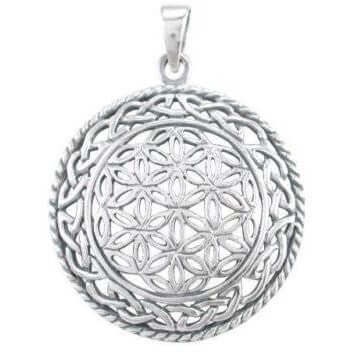 Sterling Silver Flower of Life Sacred Geometry Pendant
Regular price
Sale price
$31.95
Unit price
per
---
Quantity
Made from high quality Sterling Silver (925).

Size is approx. 1-5/16" (33mm) in diameter.

Flower of Life/Celtic Knots design.

Hallmarked 925.

Delivered in a free gift box.

Price does not include chain. However, we carry in our stock Sterling Silver chains at your request for an additional small charge if you wish to complement the pendant.
The Flower of Life is a captivating and ancient geometric symbol that has transcended cultures and time periods. Comprising of multiple evenly-spaced, overlapping circles arranged in a symmetrical pattern, the Flower of Life holds profound spiritual and metaphysical significance. It is believed to represent the cycle of creation, from the formation of the first cell to the intricate patterns that make up all living and non-living things in the universe. As an example of sacred geometry, the Flower of Life is considered a fundamental blueprint of the universe.