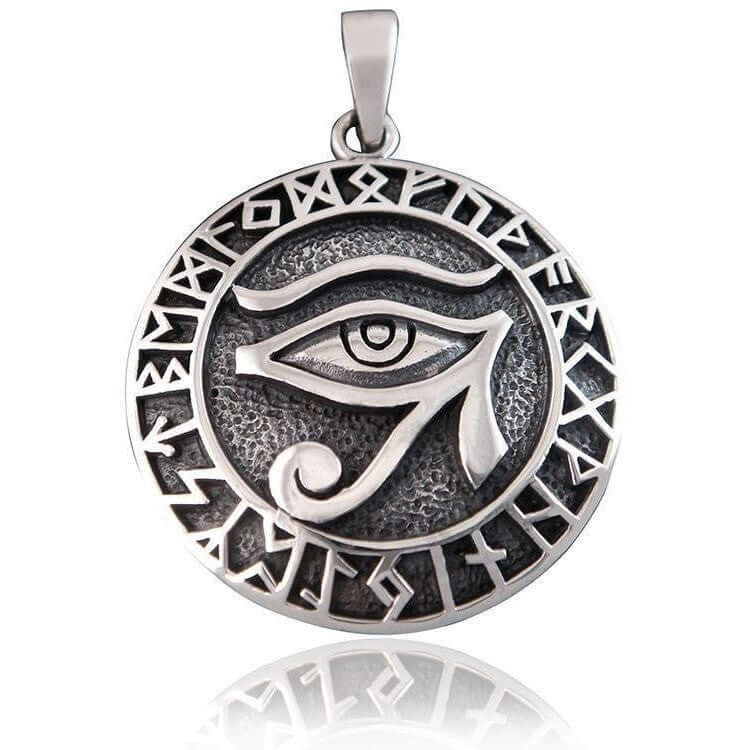 Sterling Silver Eye of Horus and Runes Pendant
Regular price
Sale price
$31.95
Unit price
per
---
Quantity
Made from high quality Sterling Silver (925).

Total weight: 7gr.

Size is approx. 1-1/16" (27mm) in diameter.

Egyptian Eye / Runes design.

Hallmarked 925.

Delivered in a free gift box.

Price does not include chain. However, we carry in our stock Sterling Silver chains at your request for an additional small charge if you wish to complement the pendant.
The Eye of Horus, also known as the Wedjat or the Eye of Ra, is an ancient Egyptian symbol associated with protection, healing, and royal power. It is often depicted as a stylized eye, typically the right eye, with distinctive markings. Runes, on the other hand, are characters from ancient runic alphabets used by various Germanic and Norse peoples. Ultimately, the combination of the Eye of Horus with runes creates a unique symbol that can hold personal significance for those who feel a connection to the protective and mystical qualities of both ancient cultures.