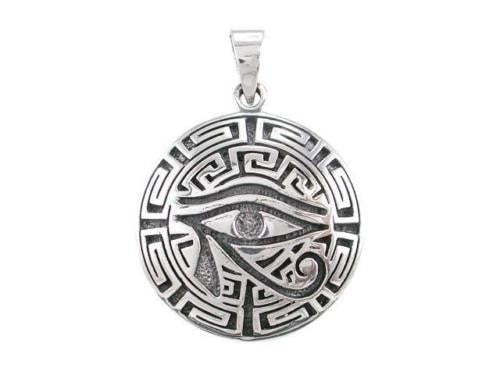 Sterling Silver Eye of Horus and Greek Key Pendant
Regular price
Sale price
$32.95
Unit price
per
---
Quantity
Made from high quality Sterling Silver (925).

Total weight: 7gr.

Size is approx. 1-1/16" (27mm) in diameter.

Egyptian Eye of Horus / Greek Key Meander design.

Hallmarked 925.

Delivered in a free gift box.

Price does not include chain. However, we carry in our stock Sterling Silver chains at your request for an additional small charge if you wish to complement the pendant.

 
The combination of the Eye of Horus (also known as the Wadjet Eye) and the Greek Meander (also known as the Greek Key or fret pattern) creates a unique and powerful fusion of two ancient symbols, each with its own rich history and cultural significance. The Eye of Horus, a revered symbol in ancient Egyptian mythology, brings its inherent qualities of protection, healing, and spiritual insight to this fusion. Intertwining with the Eye of Horus, the Greek Meander introduces the element of the eternal flow and interconnectedness of life. The continuous and unbroken pattern of the meander symbolizes unity, infinity, and the cyclical nature of existence.