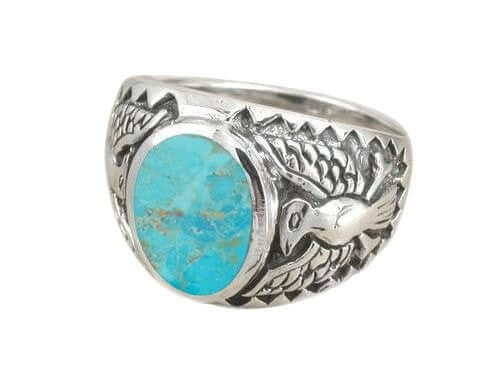 925 Sterling Silver Eagle Ring with Turquoise
Regular price
Sale price
$35.95
Unit price
per
---
Quantity
Made from high quality Sterling Silver (925).

Total weight: 11gr. Oval genuine Turquoise stone 1/2" by 3/8" (13mm by 10mm).

Please note that as the stone is genuine natural Turquoise. It will be similar but will not look the same as the one pictured. Each stone is unique.

Ring's front height of 3/4" (18mm) tapers off to 3/16" (5mm) at the back.

The Eagle on either side of the stone is engraved on oxidized Sterling Silver.
An eagle ring adorned with turquoise is a striking and symbolic piece of jewelry that beautifully merges the majesty of the eagle with the vibrant allure of turquoise gemstones. The eagle, often regarded as a symbol of majesty and freedom, is intricately detailed in the ring. Its outstretched wings and keen gaze convey a sense of power, resilience, and a connection to the open skies. Turquoise, with its distinctive blue-green hues, is known for its association with healing, protection, and positive energy. The gemstone complements the strength of the eagle with its calming and balancing properties.