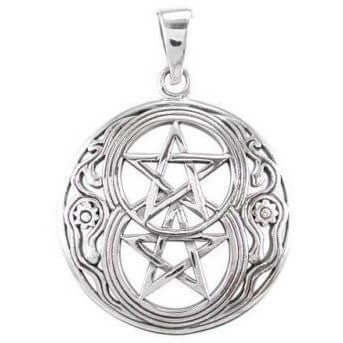 925 Sterling Silver Chalice Well Symbol Pendant
Regular price
Sale price
$29.95
Unit price
per
---
Quantity
Made from high quality Sterling Silver (925).

Total weight: 7gr.

Size is approx. 1-1/16" (27mm) in diameter.

Chalice Well Symbol / Symbol of Avalon / Double Pentagram theme.

Hallmarked 925.

Delivered in a free gift box.

Price does not include chain. However, we carry in our stock Sterling Silver chains at your request for an additional small charge if you wish to complement the pendant.
The Chalice Well symbol holds profound significance and is closely associated with the Chalice Well, a sacred site located in Glastonbury, England. This symbol is a visual representation of the well's mystical and spiritual qualities, reflecting themes of healing, unity, and the interconnection of the divine and the earthly. At the heart of the Chalice Well symbol is the Vesica Piscis, a geometric shape formed by the intersection of two circles, creating a lens-like or almond-shaped figure. The Vesica Piscis is a sacred symbol representing the union of opposites, the interplay of duality, and the point of intersection between the spiritual and material worlds.