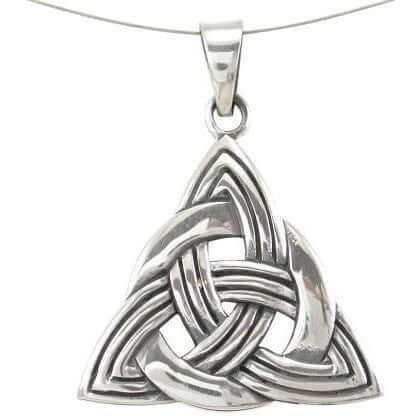 Sterling Silver Celtic Pendant with Triquetra Knotwork
Regular price
Sale price
$32.95
Unit price
per
---
Quantity
Made from high quality Sterling Silver (925).

Size is approx. 1" (25mm) not including bail by 1-1/8" (27mm) at widest point.

Celtic Triquetra Knot design.

Stamped 925.

Delivered in a free gift box.

Price does not include chain. However, we carry in our stock Sterling Silver chains at your request for an additional small charge if you wish to complement the pendant.
The Triquetra, also known as the Trinity Knot or Celtic Knot, is a symbol with deep historical and spiritual significance. Its intricate design, featuring three interlocked loops, has been embraced by various cultures and belief systems throughout history. The most common interpretation of the Triquetra revolves around its trinity symbolism. The three interlocked loops represent a unity of three distinct elements. The Triquetra has strong ties to Celtic culture and is often found in Celtic art, illuminated manuscripts, and ancient stone carvings.