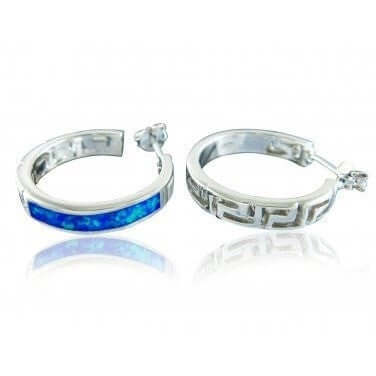 Sterling Silver Blue Opal Greek Key Earrings Set
Regular price
Sale price
$30.95
Unit price
per
---
Quantity
Made from high quality Sterling Silver (925).

Total weight: 6.5gr. Hood type.

Earrings are approx. 1/8" (4mm) in width. Inner circle diameter is 3/4" (18mm).

Gemstone is man-made Opal from 40% real Opal dust carefully compressed under high pressure to form these iridescent amazing stones. Color is Hawaiian blue.

The inlay is carefully set with each stone cut to perfection.

Greek Key / Greek Meander design.

Hallmarked 925. Delivered in a free gift box.
The Greek Key also known as the Meander or Greek Fret, originated in ancient Greece and was commonly used as a decorative motif in architecture, pottery, and jewelry. It is believed to symbolize the eternal flow of life and unity. Its continuous, unbroken pattern, often resembling a maze or a series of interconnected squares, holds deep significance and has transcended its origins to become a timeless symbol of infinity and harmony. The unbroken lines represent the interconnectedness of past, present, and future.