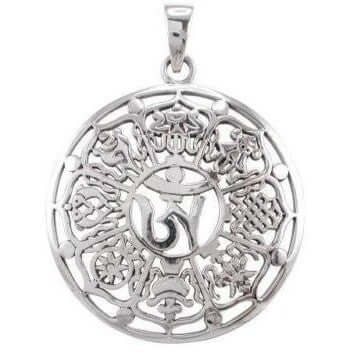 925 Sterling Silver Ashtamangala Signs Pendant
Regular price
Sale price
$34.95
Unit price
per
---
Quantity
Made from high quality Sterling Silver (925).

Total weight: 7gr.

Size is approx. 1-5/16" (33mm) in diameter.

Ashtamangala/Ohm theme

Hallmarked 925.

Delivered in a free gift box.

Price does not include chain. However, we carry in our stock Sterling Silver chains at your request for an additional small charge if you wish to complement the pendant.
The Ashtamangala, also known as the Eight Auspicious Symbols, holds significant cultural and spiritual importance in various traditions, particularly in Buddhism. These symbols are revered for their positive and auspicious qualities, symbolizing different aspects of the path to enlightenment. These Eight Auspicious Symbols are often used in various religious rituals, ceremonies, and art. They serve as powerful reminders of the spiritual path, encapsulating the virtues and qualities essential for leading a meaningful and enlightened life.