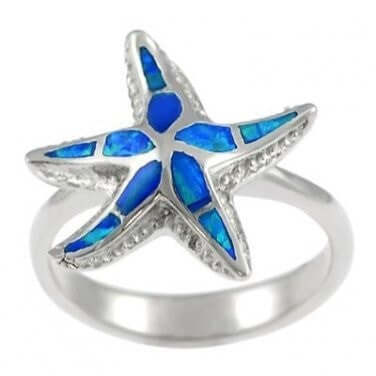 925 Sterling Silver Ring Hawaiian Blue Inlay Opal 3D Sea Starfish
Regular price
Sale price
$22.95
Unit price
per
---
Quantity
 Made from high quality Sterling Silver (925).
 Total weight: 3.5gr
 Available in sizes 6, 7, 8 (UK sizes L, N, P).
 Size of starfish is approx. 11/16" (17mm) by 11/16" (17mm).
 Gemstone is man-made Opal with 40% real Opal dust carefully compressed under  high pressure to form these iridescent amazing stones. Color is Hawaiian blue.
 The inlay is carefully set with each stone cut to perfection while thin patches of silver  have been crafted in between for additional beauty.
 Starfish design. 
 The arms of the starfish are designed in such a way that they convey a beautiful  three dimensional effect to the jewelry.
 Hallmarked 925.