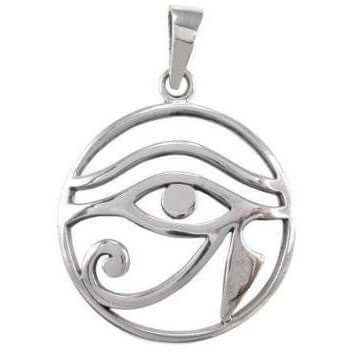 925 Sterling Silver Egyptian Wedjat Pendant
Regular price
Sale price
$27.95
Unit price
per
---
Quantity
Made from high quality Sterling Silver (925).

Total weight: 6gr.

Size is approx. 1-1/16" (27mm) in diameter.

Egyptian Eye of Horus design.

Hallmarked 925.

Delivered in a free gift box. 

Price does not include chain. However, we carry in our stock Sterling Silver chains at your request for an additional small charge if you wish to complement the pendant.
The Wedjat, commonly known as the Eye of Horus or the Eye of Ra, is an ancient Egyptian symbol that holds profound significance in the realms of protection, healing, and divine insight. The Wedjat is often depicted as the stylized eye of a falcon or a composite of the left and right eyes of the falcon. It symbolizes the eye of the sky god Horus, the son of Osiris and Isis, and later associated with Ra, the sun god. The Wedjat is imbued with divine attributes, representing the concepts of protection, restoration, and the all-seeing eye. It is believed to bring about healing and ward off evil forces.