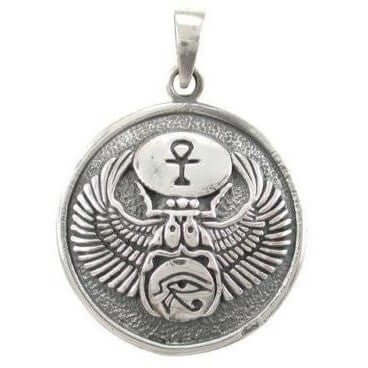 925 Sterling Silver Egyptian Scarab Pendant
Regular price
Sale price
$37.95
Unit price
per
---
Quantity
Made from high quality Sterling Silver (925).

Total weight: 9gr.

Size is approx. 1-3/16" (30mm) in diameter.

Eye of Horus / Egyptian Scarab / Ankh.

Hallmarked 925.

Delivered in a free gift box.

Price does not include chain. However, we carry in our stock Sterling Silver chains at your request for an additional small charge if you wish to complement the pendant.
The scarab beetle, revered in ancient Egyptian culture, holds profound significance as a symbol of regeneration, transformation, and protection. As a powerful emblem with roots deep in Egyptian mythology and religious beliefs, the scarab beetle, often associated with the sun god Ra, carries layers of meaning that permeate various aspects of life. Egyptians observed the scarab rolling dung into a ball, burying it, and emerging anew, linking the beetle's behavior to the sun's daily journey across the sky. Scarabs were widely used in ancient Egyptian jewelry, such as rings, bracelets, and pendants. Wearing a scarab was believed to bring good luck, protection, and blessings to the wearer.