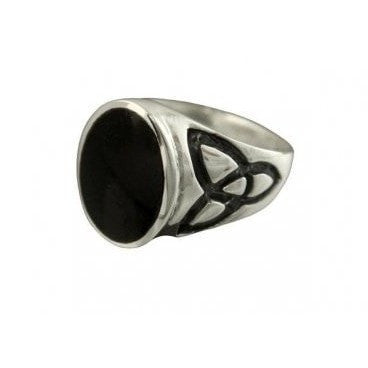 925 Sterling Silver Triquetra Ring with Black Onyx
Regular price
Sale price
$31.95
Unit price
per
---
Quantity
Made from high quality Sterling Silver (925).

Total weight: 8gr. Oval shaped Onyx stone 1/2" (12mm) by 3/8" (10mm).

The Celtic Triquetra symbol on either side of the ring is engraved on oxidized sterling silver to enhance the design.

Delivered in a free gift box.
The Triquetra is steeped in Celtic mysticism, representing the concept of threefold unity. Whether interpreted as the triad of land, sea, and sky, or the interconnectedness of past, present, and future, the Triquetra embodies the harmonious balance found in the Celtic worldview. Its symmetrical design creates a sense of balance and harmony. Wearing a Triquetra ring is a personal expression of one's connection to Celtic heritage, spiritual beliefs, or a symbol of the unbroken bond with a partner. It becomes a wearable piece of art that holds personal significance.