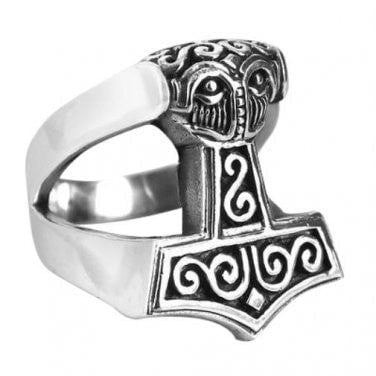 925 Sterling Silver Big Thor Hammer Ring
Regular price
Sale price
$41.95
Unit price
per
---
Quantity
Made from high quality Sterling Silver (925).

Approx. weight depending on size 12-14gr.

Frontal dimensions approx. 1" (25mm) by 3/4" (20mm).

Viking Mjolnir theme.

Stamped 925.

Delivered in a free gift box.
Wearing the Thor's Hammer Ring is an invitation to channel the warrior spirit of Thor. The god of thunder was revered for his bravery, strength, and protective nature. The Thor's Hammer Ring serves as a bridge to Norse heritage and mythology. Whether you have Nordic roots or simply appreciate the rich symbolism of Mjölnir, this ring is a tangible connection to the ancient beliefs of the Norse people. It is a tribute to the cultural legacy that continues to captivate and inspire. Wear it proudly as a symbol of your own heroic journey.