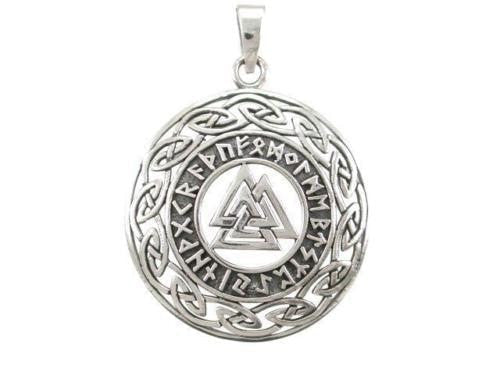 925 Silver Valknut with Runes and Celtic Knots Pendant
Regular price
Sale price
$34.95
Unit price
per
---
Quantity
Made from high quality Sterling Silver (925).

Total weight: 7gr.

Size is approx. 1-1/4" (31mm) in diameter.

Celtic Infinity Knots / Viking Valknut / Norse Runes theme.

Hallmarked 925.

Delivered in a free gift box.

Price does not include chain. However, we carry in our stock Sterling Silver chains at your request for an additional small charge if you wish to complement the pendant.
The Valknut, adorned with runes and entwined with Celtic knots, is a powerful emblem that bridges the rich symbolism of Norse and Celtic traditions. Each element contributes to a tapestry of interconnected meanings, creating a symbol that resonates with both spiritual and historical significance. The Valknut, also known as the "knot of the slain," is a Norse symbol associated with the god Odin. It signifies the interconnection of life, death, and destiny. Runes are the ancient script of the Norse people, each symbol carrying not only phonetic value but also profound symbolic meanings. Celtic knots are intricate patterns with no clear beginning or end, symbolizing the interconnectedness of life's journey.