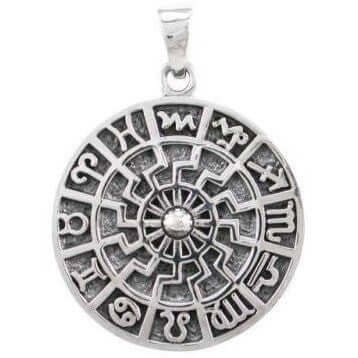 925 Silver Sonnenrad with Zodiac Symbols Pendant
Regular price
Sale price
$32.95
Unit price
per
---
Quantity
Made from high quality Sterling Silver (925).

Total weight: 7.5gr. Size is approx. 1-3/16" (29mm) in diameter.

Black Sun / Zodiac Star Signs design.

Hallmarked 925. Delivered in a free gift box.

We carry in our stock Sterling Silver chains at your request for an additional small charge if you wish to complement the pendant.
Step into the enchanting realm where ancient symbolism and cosmic energies converge with our Sonnenrad (Sun Wheel) adorned with Zodiac Signs Pendant. This intricately crafted piece seamlessly blends the power of the ancient Sun Wheel symbol with the rich symbolism of the zodiac, creating a unique and mesmerizing talisman that resonates with both history and the cosmos. At the heart of this pendant lies the Sonnenrad, a powerful symbol with deep-rooted historical significance. Representing the sun's ever-present energy and vitality, the Sonnenrad has been revered in various cultures as a symbol of life, light, and the cyclical nature of existence.