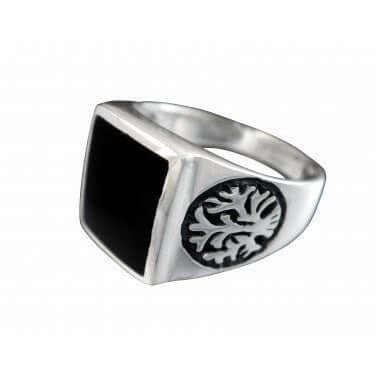 Sterling Silver Celtic Tree Of Life Black Onyx Ring
Regular price
Sale price
$31.95
Unit price
per
---
Quantity
Made from high quality Sterling Silver (925).

Approximate weight: 9gr.

Rectangular black Onyx stone 1/2" by 3/8" (12mm by 10mm).

Ring's front height of 9/14" (14mm) tapers off to 1/8" (3mm) at the back.

Engraved Celtic Tree Of Life on both sides.

Delivered in a free gift box.
Trees held immense significance in Celtic mythology, often considered sacred and revered as symbols of life, wisdom, and connection to the divine. The Celts believed that certain trees, like the oak and the yew, possessed mystical qualities. The Celtic Tree of Life shares similarities with the concept of the World Tree or Axis Mundi, a central motif in many mythologies around the world. This cosmic tree serves as a bridge between different realms, connecting the earthly, celestial, and underworld dimensions. Whether chosen for its aesthetic beauty, spiritual significance, or connection to Celtic heritage, this ring becomes a tangible reminder of the eternal cycle of life and the interconnectedness that binds us to the roots of existence.