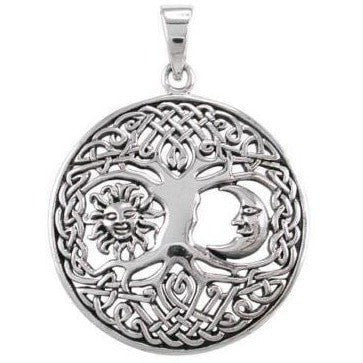 925 Silver Celestial Faces and Tree of Life Pendant
Regular price
Sale price
$32.95
Unit price
per
---
Quantity
Made from high quality Sterling Silver (925).

Total weight: 7gr.

Sun and Moon Faces / Celtic Tree of Life design.

Hallmarked 925.

Delivered in a free gift box.

Price does not include chain. However, we carry in our stock Sterling Silver chains at your request for an additional small charge if you wish to complement the pendant.
The combination of the Celestial and the Tree of Life forms a symbol that transcends the boundaries between the cosmic and earthly realms, intertwining the forces of the universe with the fundamental essence of life. Celestial symbols encompass the vastness of the cosmos, including stars, moons, and galaxies. The Tree of Life, a widespread symbol in various cultures, signifies the interconnectedness of all life. Its roots delve deep into the earth, while its branches reach toward the heavens, symbolizing the unity of the material and spiritual realms.