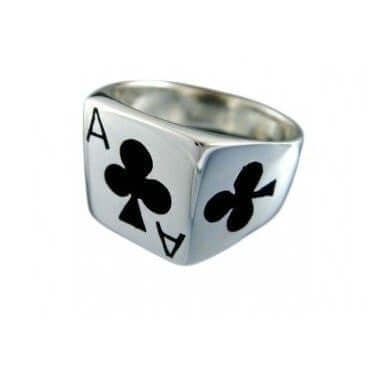 925 Sterling Silver Ace of Clubs Casino Ring
Regular price
Sale price
$35.95
Unit price
per
---
Quantity
Made from high quality Sterling Silver (925).

Total weight: 11gr.

Front is squared (15mm) with black enamel ace of clubs motif.

Side is tapered with black enamel clubs motif.

Ring's front height of 15mm tapers off to 6mm at the back.

Delivered in a free gift box.
The Ace of Clubs is a playing card that holds a special place in the deck. In many card games, it is considered the highest-ranking card, outranking all other cards in the club suit.
The Ace of Clubs often serves as a trump card in various card games, where it can be used strategically to win tricks or rounds. Its powerful status as the highest-ranking club card adds an element of excitement and unpredictability to games such as Bridge, Whist, and Euchre.
Beyond card games, the Ace of Clubs holds symbolic meanings that vary depending on cultural and interpretive contexts. In the realm of tarot cards and fortune-telling, it can represent achievements, opportunities, or new beginnings. In summary, the Ace of Clubs is more than just a playing card; it's a symbol of potential, power, and possibility. Whether you're playing a card game, exploring the world of tarot, or simply appreciating the artistry of playing cards, the Ace of Clubs adds depth and intrigue to any deck.